Taking a cruise is a great 'little bit of everything' vacation. When you're at sea, you get to relax and take in the onboard amenities; when you put in to port, you'll have lots of chances to shop, sightsee, and admire the natural beauty of the world's coasts.
But cruises are also great because the number of potential destinations is increasing every year. You can customize, mix and match, and see the things you really want to. New corners of the world are opening up, and you may be able to cross multiple destinations off your bucket list in just one cruise.
So: where are the best places to cruise to in 2019?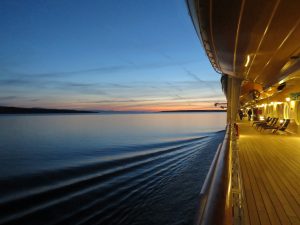 1. The Galápagos Islands
Resting about 550 miles off the Pacific coast of Ecuador,
are a world-famous chain of islands. This is, famously, where Charles Darwin first took note of the differing species of birds which would inspire his theory of evolution.
However, it hasn't generally been the most accessible place on Earth. The Galápagos, now part of Ecuador, are a national park. Only about 25,000 people actually live here full-time, and conserving wildlife is a key concern for anyone who might hope to visit.
The good news is that Celebrity Cruises run a wide range of tours to the islands, and they're expanding their service in 2019. Now with a fleet of four ships, you can visit the Galápagos in comfort and style, all while customizing your itinerary. If you love wildlife, photography, and the great outdoors, you're bound to be impressed.
Best of all, Celebrity takes seriously their responsibility to help preserve the unique wildlife of these verdant islands, so you can cruise with a conscience.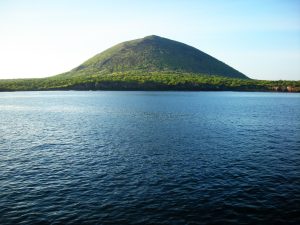 2. Egypt
Egypt is a perennial favorite for travelers of all persuasions. Unfortunately, it's kind of been on the back-burner since 2011 when the Arab Spring led to a precipitous rise in violence — and a corresponding decline in tourism.
But Egypt is really starting to bounce back, and one of the surest signs is the increased traffic on the Nile. Numerous cruise lines already operating Nile excursions are launching new ships this year, and increased demand has led smaller carriers to try their luck as well.
Most of the ships that run this route are intimate — the Nile Queen, for instance, holds only 16 passengers — so you'll want to book well in advance.
But watch for more options to become available in the next couple of years in order to meet the demand.
What could be better than seeing the best Egypt's history has to offer without having to fly or risk overland journeys?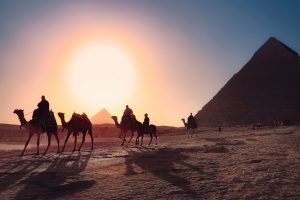 3. The Great Lakes
To those of us living in the Great Lakes basin, it's easy to take these bodies of water for granted, but in fact they're very diverse.
There are so many islands, ecosystems, and fascinating ports of call, and all within a fairly compact area. The Great Lakes are about a lot more than just Niagara Falls.
If this sounds like a novel idea, it still kind of is. But Great Lakes cruising could well be the next big thing, and 2019 is the perfect time to get in on the ground floor. The city of Cleveland alone has seen an increase of cruise ship traffic of 300% in just two years!
However, we should emphasize that this is not a budget option. For example, Victory Cruise Lines's cheapest Great Lakes package starts from $6,400 for a nine day jaunt.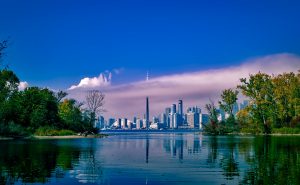 4. The Mediterranean
There are two exciting new cruise ships making their debut in the Mediterranean this year: Princess Cruises' Sky Princess and Costa Cruises' Costa Smeralda.
Costa Smeralda will begin offering 5-7 night tours in October of 2019. It's the new flagship of the line and promises to dazzle guests with its glass-bottom see-through walkway from which they can survey the sea from 200 feet above the surface.
More impressively, it will be the first major cruise ship in the world to be powered by liquified natural gas, significantly reducing emissions.
Sky Princess will make its debut in November 2019. It will also have a glass-bottom walkway, and its most expensive suites are incredibly spacious, but it lacks the fuel innovation of Smeralda.
It's always a good time to take a Mediterranean cruise, but 2019 promises to be something special.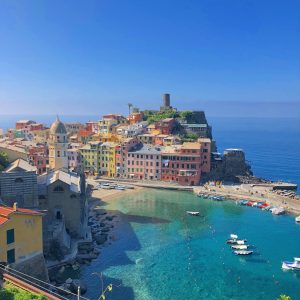 5. Alaska
If you're me, when you picture a cruise, you're imagining yourself lounging in a hammock in the sun, or snorkeling amid shallow reefs.
But the great north is actually a perfect cruise destination, even though you won't necessarily come back with a tan.
Every major global cruise line offers trips to Alaska, so you'll be spoilt for choice. The good news is that means there's also something for every travel budget.
But one new addition in 2019 is Royal Caribbean's Ovation of the Seas, which will become the largest ship ever to navigate the Inside Passage route through Alaska's islands.
The sheer beauty of the coasts is overwhelming, so make sure you bring a camera if you go!