One trend we want to last forever is destination dining. These over the top restaurants are worth planning a trip around because of their totally outrageous food, decor, concept, or all three. From ultra-high end French cuisine to bizarre meals served by the undead, these one-of-a-kind eateries make for a memorable dining experience.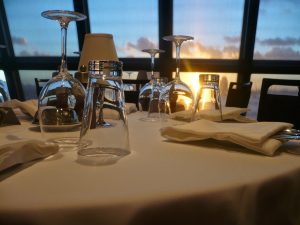 ---
45. New Lucky Restaurant
Ahmedabad, India
The New Lucky Restaurant isn't so much over the top as it is six feet under. Built over an old Muslim cemetery, the eccentric owner chose to leave the grave intact and place tables around them.
Guests can pay their respects in between courses of Indian curries and na'an – apparently the food is quite good.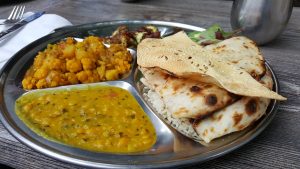 44. Alain Ducasse au Plaza Athénée
Paris, France
Alain Ducasse is the Parisian chef who made a huge splash by breaking the rules of stuffy French cuisine and putting molecular gastronomy on the menu. His latest venture features the same food wizardry, but in this case, it's the decor that really steals the show. A ceiling dripping with crystal and all-white settings make you feel like you're dining in a mashup of My Fair Lady and A Clockwork Orange.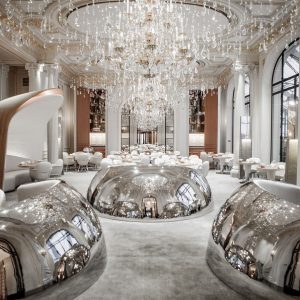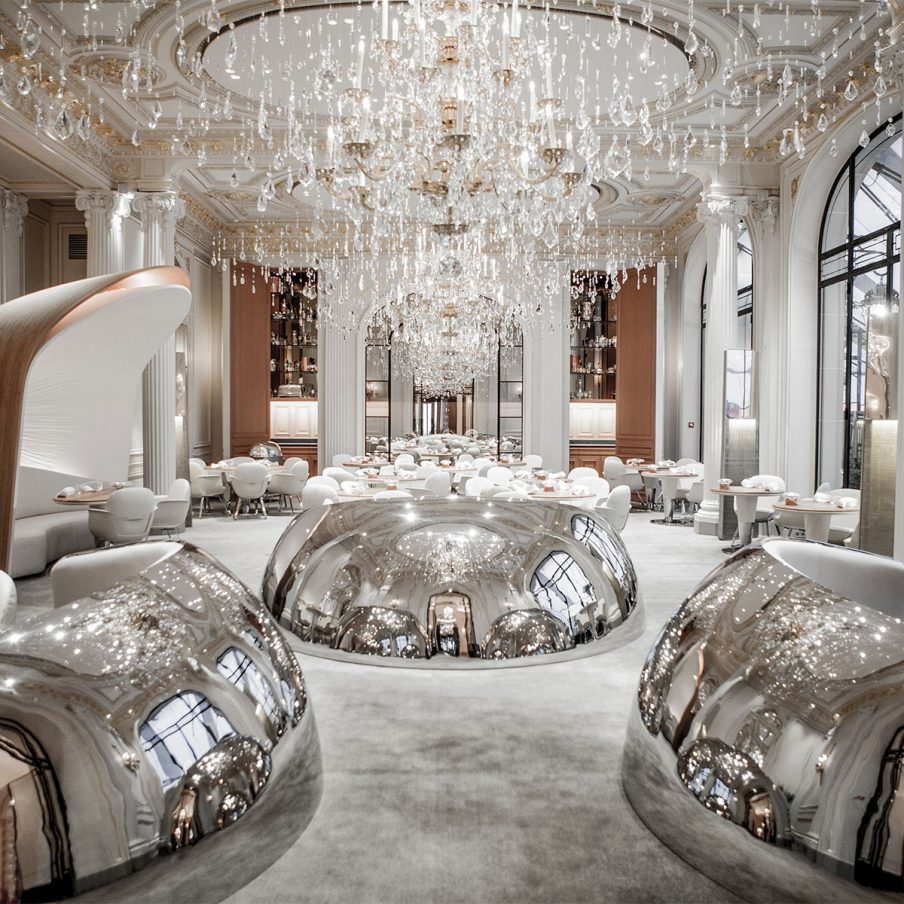 43. Jeong Kwan
Various locations
Kwan's gentle method of food preparation and flavor combining is not so much a cuisine as a philosophy – however, you'll have to become a Buddhist monk if you want to try it. A monk herself at the Chunjinam Hermitage at the Baegyangsa temple in South Korea, Kwan also makes occasional forays into the kitchens of other chefs so the public can sample her food.
Her dishes are said to bring spiritual, as well as intestinal, peace.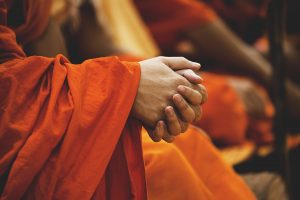 42. The Buffet at Bellagio
Las Vegas, USA
What it lacks in atmosphere, this classic Vegas buffet makes up for in sheer abundance. Featuring global cuisine, you can get everything from waffles to caviar, roast beef to cherry cheesecake.
Open from 7 a.m. until 10 p.m., this place churns out hundreds of pounds of king crab legs alone in a single day.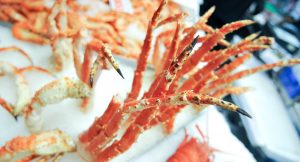 41. H. R. Giger Bar
Gruyères, Switzerland
If you can't get enough of the cool design elements in the Alien movie franchise, why not have a drink inside the chest cavity of one the creatures themselves? This wacky bar is decked out to look like Ripley went loco and decorated her local hangout with the trophies of her latest alien hunt.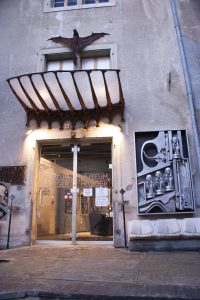 40. The Giraffe Manor
Kenya, Nairobi
This one has been getting a lot of action on celebrities' Instagrams due to the unexpected and photogenic guests that might join you at dinner. The dining room's second-story windows are left open so the sanctuary's resident giraffes can stick their heads in and sample the fare. They don't have the best table manners, but at least they're not carnivores – so far.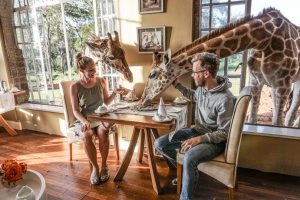 39. Truth Coffee Roasters
Cape Town, South Africa
Whether you're into Steampunk style or not, this café is an amazing example of aesthetic commitment. With a counter made of tin, tables that look like the inner gears of an old-fashioned watch, and baristas wearing leather aprons, it's sort of like venturing into a Dickens novel on acid. But it's not all for show – the roastery was named the Best Coffee Shop in The World in The Telegraph's 2016 list.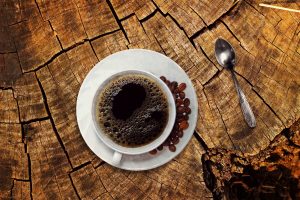 38. The Bird's Nest Restaurant
Chiang Mai, Thailand
Vertigo and pad thai don't mix, so if you're afraid of heights you might want to skip this one. Guests of this exotic restaurant settle into man-made nests suspended in the air.
Located inside the Soneva Kiri Eco Resort, the nests overlook the ocean and promises an incredibly romantic meal – as long as no one falls out.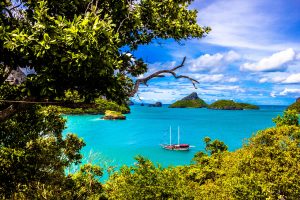 37. ICEHOTEL
Kiruna, Sweden
The most unique thing about this restaurant, named one of the top three in Sweden, is that it's in a year-round ice hotel. Yes, the entire structure is made out of "snice" – a sturdy mixture of snow and ice – and it's the perfect place to dine if you prefer fluffy parkas over formalwear. Dishes include moose tartar served on ice, bleak roe served on ice, and chocolate with arctic brambles served on ice.
We're sensing a theme, here.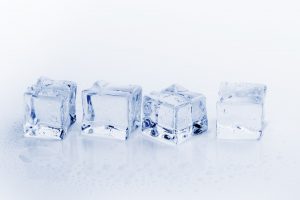 36. The Lockhart Cocktail Bar
Toronto, Canada
This is THE place to go for Harry Potter fans touching down in Toronto. Five years after opening, this popular spot still has lineups around the block of wishful wizards thirsty for beverages from the books.
Just be careful what you order – you don't want to accidentally imbibe a love potion.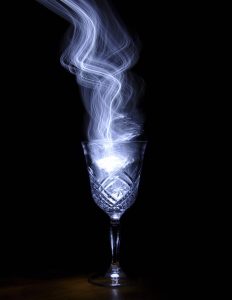 35. Ninja
New York, USA
Who doesn't want a lethal weapon flying at their face while they chow down? If you love Japanese food but find the experience of eating it boring, check in here, where kung-fu fighting waitstaff do martial arts, jump out at guests visiting the washroom, and sneak up, ninja-like, with your meal.
Sounds relaxing.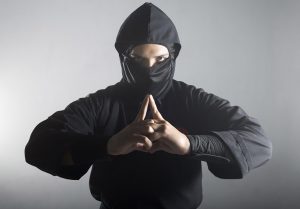 34. Heart Attack Grill Restaurant
Las Vegas, USA
It's no surprise that a place as over-the-top as Las Vegas has some of the most outlandish restaurant ideas. This hospital-themed diner has servers dressed as doctors and nurses and dishes like the Triple Bypass Burger, which features three all-beef patties and three kinds of cheese.
To prepare for the imminent pulmonary event brought on by the meal, guests have to change into hospital gowns before being seated.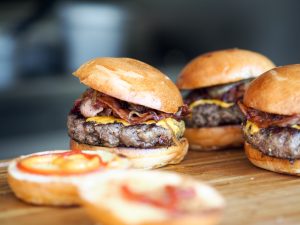 33. Mesa 1
Punta de Mita, Mexico
Getting to the secret location of Mesa 1 is like an assignment out of Mission Impossible, with a trek through a jungle and a bridge that surfaces from crystal water once you set foot on it. A themed menu boasting dishes inspired by the classical elements (water, air, fire, earth) includes exceptional dishes like chicken mole with fig chutney delight the restaurant's numerous diners. And by numerous, we mean 12.
Yes, this place is so exclusive they only serve 12 people per night.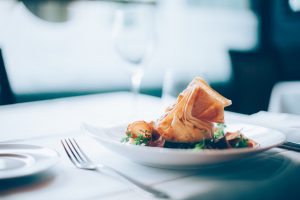 32. Ultraviolet
Shanghai, China
This ultra-modern space only seats one table of ten per night, but those who get a reservation are lucky to try chef Paul Pairet's cuisine. High-tech visuals play out on the wall to create an immersive, theatrical experience, but the real star is the food; an avant-garde 20-course tasting menu that changes according to the chef's nightly whim.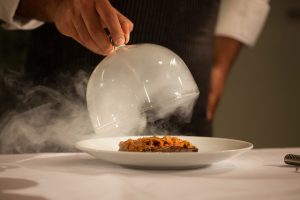 31. Restaurant le Meurice
Paris, France
Another brainchild of culinary rock star Alain Ducasse, this is the closest you'll ever get to eating in Versailles. The opulent decor of chandeliers, tapestries, and gilt frames feel like the dining room of a palace; the French cuisine they serve here is just as upscale and will cost you dearly.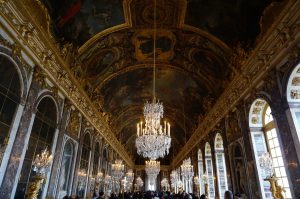 30. The Bubble Room
Captiva Island, USA
You don't even have to enter The Bubble Room restaurant to know that it's going to be a special experience. Lit up like a rainbow candy cane, this popular tourist destination features hearty fare:
steak, breaded shrimp, and calamari but served with original sides like cantaloupe wedges, garlic bread, and iced sticky buns.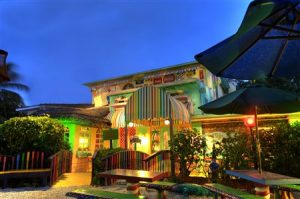 29. Aiguille Du Midi Restaurant 3842m
Chamonix, France
Situated in the mountains, this restaurant is a whopping 3,842 meters above sea level, just like the name implies. Diners might be too distracted by the breathtaking view to eat, but if hunger does assert itself, the fine French cuisine on the menu is as good as you'd expect from a restaurant on top of the world.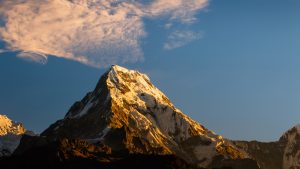 28. Les Amis
Singapore
If you loved the antics of the family in Crazy Rich Asians, this is just the type of place they would come to eat. Ultra high-class, expensive and upscale, this Les Amis makes an art out of otherwise tired French classics like brie-stuffed gougiéres and smoked salmon mousse.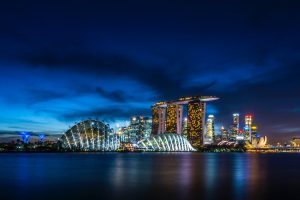 27. Restaurant de l'Hôtel de Ville de Crissier
Crissier, Switzerland
A Michelin all-star, this classic restaurant keeps it old school in almost every way. Chef Franck Giovanni has been ruling the kitchen at Crissier for 24 years, and his impeccable dishes never fail to impress.
The menu goes all-out on rare ingredients like purple sea urchin, sweetbreads, and decadent slices of black truffle.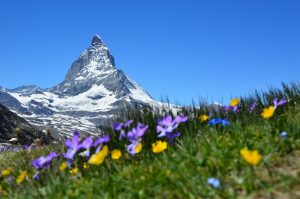 26. Robot Restaurant
Tokyo, Japan
This is what the future is going to look like, so we might as well get used to it. Here, diners place their orders and let the robots do the rest.
While you're waiting for your meal, you can feast your eyes on a robot laser show and imaginative creations that look like the Transformers went to Wonderland and got a makeover.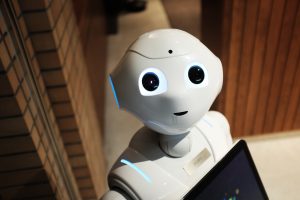 25. Odette
Singapore
In a place as affluent as Singapore, you really have to go one step above in order to stand out in the restaurant scene. Odette pulls it off by combining high art with French food.
In a pristine white dining room with tuxedoed servers, guests can expect culinary delicacies like foie gras and octopus lashed with miso caramel to look as good as they taste.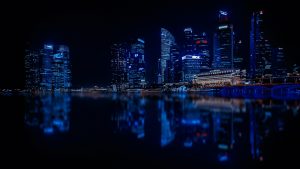 24. Kinderkookkafé
Amsterdam, Netherlands
If you speak Dutch, then the name tells you exactly what you're in for at this kooky spot. Diners are encouraged to bring their kids (if you don't have any, bring someone else's) because at this delightfully juvenile location, the children make all the food. The menu is simple so kids can prepare things like pizza, sandwiches, and pancakes.
Don't worry – a real chef is on-site to assist with the cooking.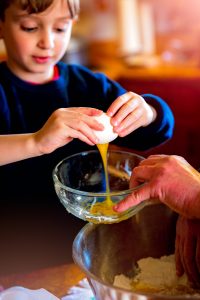 23. Noma
Copenhagen, Denmark
Although it's been named "the world's best restaurant" on four different occasions, this restaurant only carries two Michelin stars. That isn't of too much concern to chef René Redzepi, who's real motivation can be teased out from the restaurant's name, a portmanteau for the Danish word's for "food" and "mad". The man has made a name for himself, and for his country's culinary scene, by concocting brilliant local delights that incorporate Icelandic seaweed, Faroese deep-sea fish, and Greenlandic musk ox.
You have to book ahead though – last we checked, diners wait three years before getting a reservation to try the $500 per person tasting menu.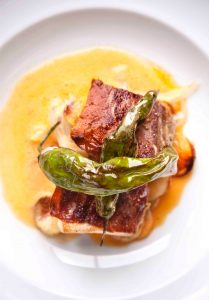 22. Mirazur
Menton, France
Awarded the title of the Best Restaurant in The World for 2019, Mirazur serves up French cuisine with an Argentinian twist. Said to be a perfect dining experience, tables are booked three months in advance for the chance to enjoy a meal, all for the tidy sum of $300 per person.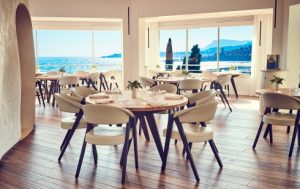 21. Il Refugio Degli Artisti
Dosso, Italy
If you've ever wondered what it would be like to eat in the underworld, this is the restaurant for you. Inspired by the atmosphere of Dante Alighieri's timeless Divine Comedy, you can expect fine Italian food prepared with a devilish touch. The decor here is the real showstopper though, a decadent descent into elegant extravagance; you'll feel like the King of Hades himself.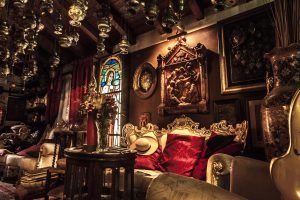 20. Alinea
Chicago, USA
The menu at Alinea is a mix of homestyle Midwest fare and things you wouldn't think would be edible. There's a quirky Chicago hot dog cube and classic steak rendered upscale, laden with black truffle "explosion". Each meal concludes with an edible balloon, for the reasonable price of $300+ per person.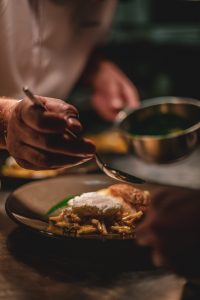 19. Vampire Café
Tokyo, Japan
Tokyo has the world's largest concentration of themed restaurants, so it's no surprise some creative restauranteur jumped on the vampire trend with this one. With evocative decor like smashed mirrors, skeletons, and black tableware, it's more like stepping into a haunted house than a dining room. Although rumor has it the food is only so-so, at least it entertains with catchy names like "tragic execution of traitor by burning to death". (It's chicken).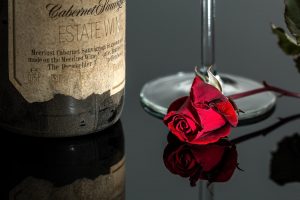 18. Wieliczka Salt Mine
Wieliczka, Poland
This is an opportunity to eat 125 meters underground in a cavernous salt mine where the food has real depth of flavor. Dishes are unpretentious Polish comfort food staples like meat dumplings, potato dumplings, and cheese – well, dumplings.
The coolest thing about it is that you can season your food with salt from the mine!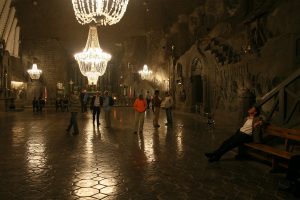 17. Prison of Fire
Tianjin, China
We've heard the food in prison is excellent, so why not recreate the experience without having to go through the hassle of a lengthy trial? Steel bars surround the tables, which are further decorated with shackles, handcuffs, and exposed brick walls.
Despite the chilling mood, the food is worthy of a last meal, with stalwart tourist faves like Kung Pao Chicken. 
16. Kawaii Monster Café
Tokyo, Japan
You don't have to be a Harajuku fan to really appreciate the wonder captured here. Multi-colored out-of-this-world structures loom everywhere, there are hourly Harajuku karaoke performances, and the food looks like it was dipped in a rainbow before it was brought to the table.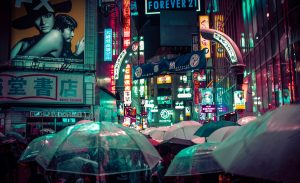 15. The Mad Cook
Moscow, Russia
Aside from being famous for its elevated Russian folk cooking, this is the one place in Moscow outside of the Kremlin where you're most likely to rub elbows with an oligarch, a model, or an actress. Even though the prices are steep for the general public, outrageously wealthy patrons consider this a fun spot to slum it, and who knows – if you're lucky, you might just share a blini with Putin.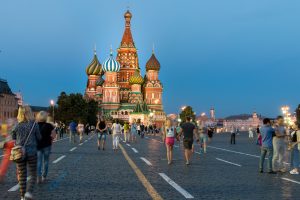 14. Green Dragon Pub
Hobitton, New Zealand
There's no way to tell if J. R. R. Tolkien would have approved of this tribute to his books – or, more accurately, to the films that were inspired by them.
Eat, drink, and get hairy feet in a structure modeled after those cute little turf houses that Hobbits inhabit in Middle Earth. Neither of those things is real but you get the picture, thanks to Peter Jackson.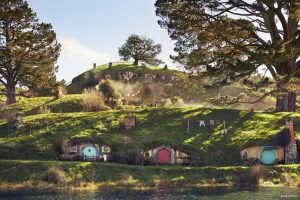 13. Chillout
Dubai, UAE
The next time you're suffering from heat exhaustion while vacationing in the United Arab Emirates, chill out in this restaurant built completely of ice. The walls, tables, and chairs are all fashioned from blocks of ice that cool you down while the food heats you up.
To counter the frigid temperatures of your surroundings, the menu has hot chocolate, hot apple cider, and various other warming beverages.
12. The Labassin Waterfall Restaurant
Quezon, Philippines
Parked at the bottom of a natural waterfall, this restaurant offers a refreshing break in the heart of the tropics, serving up authentic Philippine dishes like bibingka and sinigang. Guests hang out at casual tables after checking their shoes at the door, since the bamboo table are surrounded by crystal clear, sparkling water.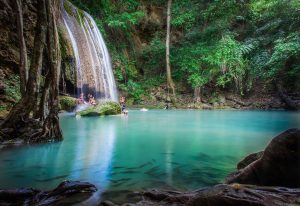 11. Northern Lights Bar
Grindavík, Iceland
This ultra-modern dining room doesn't need to do much in terms of atmosphere, given the natural splendor outside the floor-to-ceiling windows. The 360-degree view of the Icelandic terrain is incredible, but the show really starts once it gets dark and the Northern Lights flood the sky.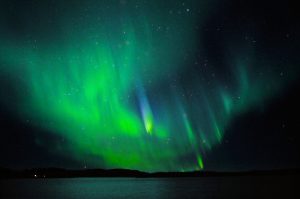 10. Teatro ZinZanni
Seattle, USA
Is it a circus inside a restaurant or a restaurant inside a circus? ZinZanni totes itself as "part circus, part cabaret, and always magical". They serve a multi-course feast and fanciful cocktails, everything themed to bring you back to the hay day of the circus circuit in the 1920s.
Just don't crane your neck watching the high-flying aerial acts while you're sipping your soup.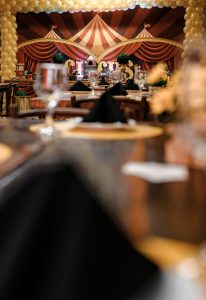 9. The Big Texan Steakhouse
Amarillo, USA
This restaurant pops up in movies every once in a while and it's easy to see why; its stereotypical ranch atmosphere and cowboy panache just scream Texas. More famous than its appearance is the fact that you can order a 72oz steak with all the fixin's. If you finish it, it's totally free. The downside is, most people can't – and nobody should – and if any portion is left uneaten, the meal sets you back a mean $200.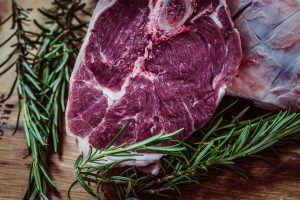 8. Redwoods Treehouse
Warkworth, New Zealand
Clinging to an ancient redwood, this airy dining space looks so organic it might have been built by a strange, large bird. But once you're inside, you'll find a cozy upscale dining room lit by candles and featuring creative takes on local cuisine. The wine menu is especially epic, featuring hundreds of the award-winning labels that New Zealand is renowned for.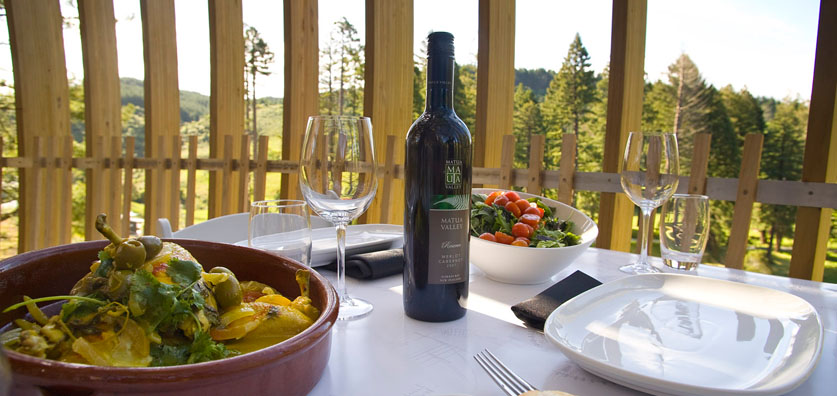 7. El Diablo
Teguise, Spain
If there's one thing you can expect from a kitchen next to a volcano, it's that the food will be served HOT. Though the Lanzarote volcano isn't active and hasn't erupted since 1824, chefs do use the geothermal heat from the geographic wonder to cook hearty Spanish fare like chicken, beef, and piquant sausage with fragrant rice.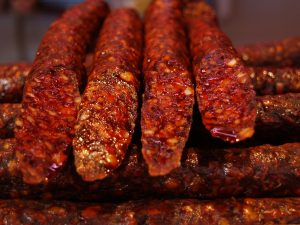 6. Barbie Café
Taipei, Taiwan
Hopefully the food isn't as pink as absolutely everything in this Mattel miasma, or else we might be reaching for the Pepto Bismol. The menu here is as cutesy as the plastic doll herself; you'll catch her likeness in cinnamon on top of the lattés an in icing sugar on top of the pancakes. And in case you were wondering, Ken is nowhere in sight.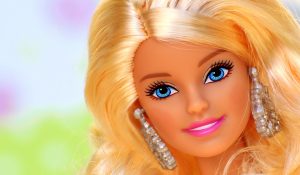 5. Dinner In The Sky
Various Locations
Strap yourself into a seat at this 12-seat dining table and get hoisted hundreds of feet into the air as chefs wearing safety harnesses serve you a four-course meal. This unique concept has gone mobile, showing up in Belgium, Montreal, and other cities for short runs that need to be booked months ahead.
Suspended on the end of a cable seems like a perilous place to eat oysters, but they haven't lost a guest yet. We just want to know – what do you do if you have to go to the bathroom?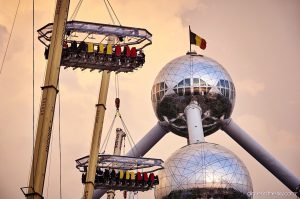 4. SubliMotion
Ibiza, Spain
It's the world's most expensive restaurant, at more than $2,000 dollars per person. Found on the legendary party island Ibiza, only the wealthiest of the wealthy can afford this experience that combines food with art and music.
The tickets to this theatrical dinner out are edible, and it only gets more over-the-top from there, from the personal spinning stations that turn guests into DJ's, a VR headset, and molecular gastronomy that send your tastebuds on a similarly psychedelic journey.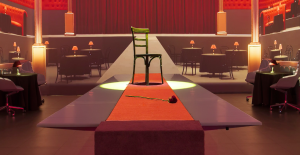 3. Sukiyabashi Jiro
Tokyo, Japan
With the documentary Jiro Dreams of Sushi, released in 2011, the story of Chef Jiro became a legend. Obsessed with sushi from a young age, Jiro has elevated a cuisine that revolves around strips of raw fish to an art.
His tiny, unassuming restaurant near a subway station in the basement of an industrial complex is turning out some of the most coveted bites in the world.
People are so keen to get a taste that there are how-to guides all over the internet about how to get a reservation here. The $300 20-course menu is, of course, worth it.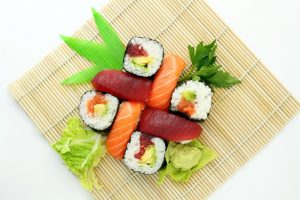 2. Ithaa Undersea Restaurant
Conrad Rangali Island, Maldives
In an astonishing feat of engineering, Ithaa is located five meters below sea level in a glass dome that allows diners to watch the antics of the island's sea creatures – some of which they'll be eating. With the beautiful view and pure novelty of the experience, we doubt guests are paying much attention to the $320 prix-fixe menu.
1. CuliAir Luchtballon
Netherlands
If you can eat in a crane, in a cave, and under the sea, then of course the next logical step is to hop in a hot air balloon. Share a toast while a burst of flame just above your head propels an enormous ballon into the sky, slinging you along in its tiny woven basket.
It would be extra cool if the chef used the same flame to cook the food, but no – the basket has been equipped with a mini kitchen pushing out food befitting the high – in this case, very high – life.