Caribbean resorts have been a travel classic for decades. Whether in the depths of winter or the dog days of summer, who wouldn't want to take a week to lounge by the ocean and sip on coconut rum? A resort is an all-encompassing travel experience; all the food you could want, all the drinks you could want, all the activities you could want, all in one place and covered by one price.
But which Caribbean resorts are the best? Let's take a look at the highest-rated and most beloved options for your next tropical excursion.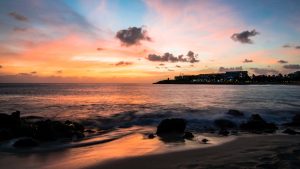 1. Bucuti & Tara Beach Resort Aruba
Highlights: Adults-only, romantic, eco-friendly
Bucuti & Tara is a four-diamond resort located on Aruba's spectacular Eagle Beach. Their bailiwick is the romantic retreat, which is reflected in the fact that they do not cater to children or large groups.
The resort is oft referred to as the most romantic place in the Caribbean, noted for its emphasis on serenity.
This is not the place to come if you're looking for wild parties or active nightlife.
There are only 104 rooms here, there's no smoking, and the staff work to keep ambient noise (and music) to a minimum. The other major benefit is that Bucuti & Tara is carbon neutral, and as such is a very eco-friendly option.
One should also note, however, that this is not a five-star resort, and it lacks some of the amenities that would put it in that category.
They also don't offer all-inclusive packages, but they do have plenty of dining options onsite.
TripAdvisor has named Bucuti & Tara the #1 Hotel in the Caribbean for 2019, as well as the #1 Hotel for Romance in the Caribbean. So who needs stars?
!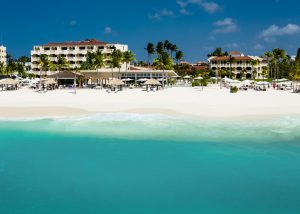 2. Hermitage Bay, Antigua
Highlights: Quiet, intimate, "eco-luxury"
Not unlike Bucuti & Tara, Hermitage Bay is a place you should go for rest and relaxation. The resort is comprised of only 30 detached, intimate luxury suites, so you'll never feel like you're lost in the crowd.
And you definitely won't have to fight for a spot on the 1,200-foot beach that's reserved for the use of guests.
The menu is à la carte, changes daily, and includes many ingredients that are locally sourced. Cuisine ranges from European to Caribbean to American, so your tastebuds certainly won't be bored.
If you're looking to get more attuned with your own body as well as nature, the resort offers a garden spa, as well as yoga and pilates.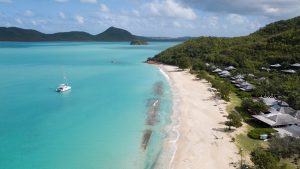 3. Mount Cinnamon Resort & Beach Club, Grenada
4. Spice Island Beach Resort, Grenada
Highlights: Beachy, foody, friendly
Like Mount Cinnamon, Spice Island is located on the Grand Anse beach in Grenada — which is, incidentally, one of the best in the Caribbean.
Like the other entrants on this list, Spice Island is also remarkably intimate.
It offers only 64 suites, all close to the ocean, with amazing views, and with hammocks that sway in the trade winds as they blow off the sea.
But all this intimacy is spread across an 8-acre property, meaning you'll never feel crowded or rushed.
Guests rave about the food, the access to the beach, and the exceptional service.
Part of this is the family atmosphere; the resort is run by Sir Royston Hopkin and his relations, who take pains to ensure that every guest enjoys their stay.
Spice Island is the only 5-diamond rated resort in Grenada, confirming its place among the best Caribbean resorts.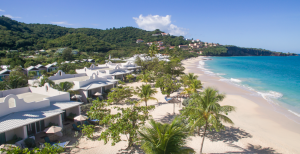 5. Curtain Bluff Resort, Antigua
TripAdvisor Rating: 4.5/5 (Traveler's Choice 2019)
Highlights: Views, beaches, water sports
The name Curtain Bluff is no bluff. This resort of 72 rooms and suites really does rest on a rocky promontory, with water on both sides.
That means two beaches — one calm, the other rougher — but also two excellent restaurants — one casual and one more swanky.
You can also partake of kayaking, windsurfing, paddle-boarding, scuba diving, and waterskiing.
There's a nice balance at Curtain Bluff. If you want to get out there and be active, you absolutely can. On the other hand, if you just want to recharge your batteries, you'll also be very satisfied with your stay.