If you've got the dollars to spend, these hotels have the decadent suites, outrageous amenities, and stunning service to sweep you off your feet. The resorts in this humble list of the most exclusive hotels in the world will have you swimming in the lap of luxury – that is, if you can get in.
But exclusivity doesn't always connote a high price tag; some of these places are by invitation only, book reservations years in advance, or require a private helicopter to get to.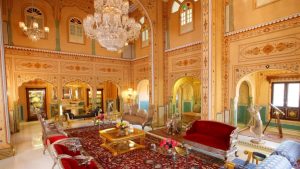 ---
40. Palms Casino Resort in Las Vegas, USA
Hugh Hefner loved it and so should you, with its quintessential Vegas opulence and views down the strip. This hotel really leans into the cheese factor that guests of Sin City expect, with purple-and-gold design accents and a bar that looks onto a segmented shark suspended in epoxy.
With its own casino, several restaurants, spa, and shopping center, the Palms is designed to keep you from ever leaving, not that you'll want to.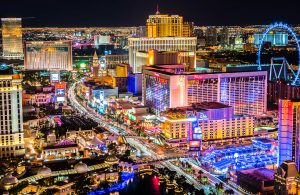 39. Hotel Connaught in London, England
This posher-than-posh outfit makes the list for having a suite called simply 'The Apartment' at $23,500 per night. Located in the Mayfair section of London, guests get a private butler, custom menu for room service, and other amenities like an on-call hairdresser.
It's got a storybook red brick exterior, a contemporary luxury interior, and its own brand of artisanal gin so that even your martinis smack of exclusivity.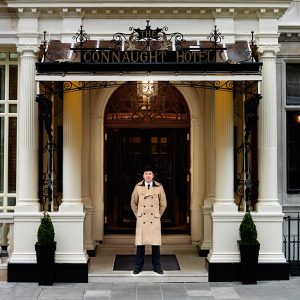 38. Hotel Cala di Volpe in Porto Cervo, Italy
Based on the sunny coast of the island of Sardinia, Cala di Volpe usually flies under the radar in terms of tourist attention, but that's the very reason the rich and famous love to stay here.
Designed to take full advantage of the surrounding Mediterranean splendour, the hotel has a number of highly elite suites. Take the Presidential Suite, for instance, which at $26,500 per night keeps you in shape with a fitness area, a pool, and a solarium.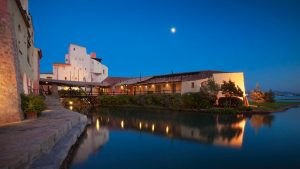 37. Emirates Palace in Abu Dhabi, UAE
This sprawling establishment promises to deliver guests a once-in-a-lifetime Arabian fantasy experience. The rooms are regal, the food outstandingr, and the hotel has its own private beach, marina, and bay.
There's also a Turkish spa handing out 24karat gold facials – in fact, the whole place is dripping with gold. Everything sparkles, including the palm trees that line the facade, which is decked out with so many lights that the International Space Station must be able to spot it at night.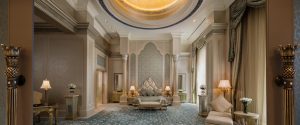 36. Mandarin Oriental in Shanghai, China
Don't let the name fool you – this is not merely a Chinese buffet restaurant that also incongruously serves french fries. The pinnacle of a group of exclusive hotels in coveted destinations like Kuala Lampur and Hong Kong, the Mandarin Oriental at Shanghai, like the restaurant, offers everything in luxury but the kitchen sink, including sci-fi views of Shanghai from the 25th floor Presidential Suite – for just north of $26,000 per night.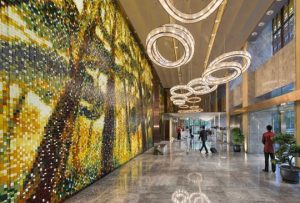 35. Hôtel Plaza Athénée in Paris, France
It should be no surprise that a hotel with the word Plaza in its name has a Royal Suite fully dressed with Louis XIV decor for just $27,000 per night.
The hotel also houses one of the world's most expensive restaurants, Alain Ducasse du Plaza Athénée, where you can get an exquisite meal for slightly less than what your room cost.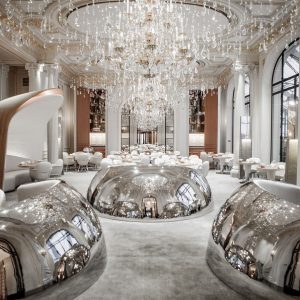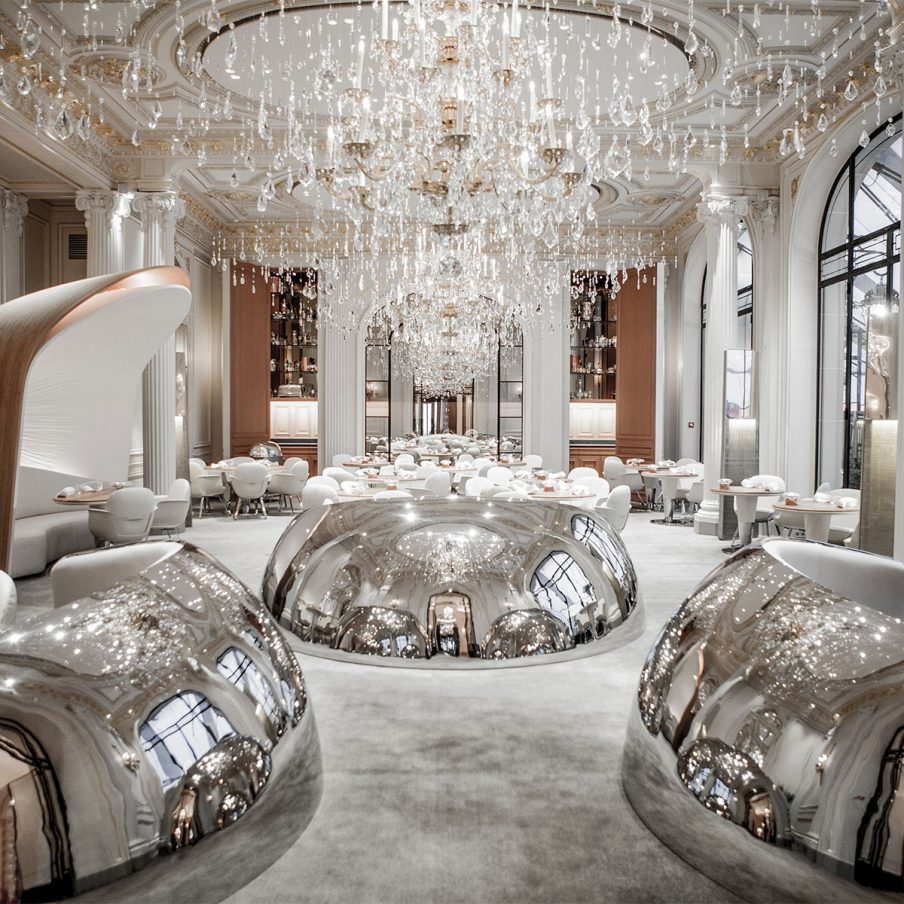 34. St. Regis Mauritius in Le Morne, Mauritius
A luxurious hotel on an island of unparalleled tropical beauty.
With suites that go up to $30,000 per night, the hotel is for the ultra-wealthy and boasts that the staff specialize in "discreetly addressing guests' needs". We're going to pretend we have no idea what that means.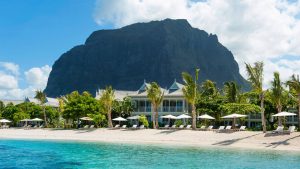 33. Grand Resort Lagonissi in Athens, Greece
A popular spot for celebrities like George Clooney and Leo DiCaprio, the Lagonissi is the ultimate luxury destination for visitors to the Athenian Riviera.
From villas with views of the sea to cabanas with private pools, this resort offer a tropical getaway feel but rubs shoulders with downtown Athens so you can get a taste of culture between spa treatments.
32. Grand Hyatt Cannes Hôtel Martinez in Cannes, France
Not your average Hyatt, this one has suites up to $37,000 per night and looks out onto the Cote d'Azur. The ideal booking if your goal is to "see and be seen," during your residence you'll bask in the Art Deco design, top-notch cuisine, and renowned local nightlife. Don't even try to book it during the film festival, when rooms have already been reserved for the Hollywood A-list up to five years in advance.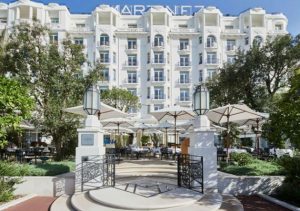 31. Laucala Island Resort, Fiji
Even if you have the $40,000 per night it costs to stay in this hotel's most expensive suite, you may not be able to get in. First, you have to submit an application.
If you're lucky enough to be selected, you can soak in the lush island atmosphere and utter peace of your surroundings while your every need is taken care of by a discreet and highly trained staff.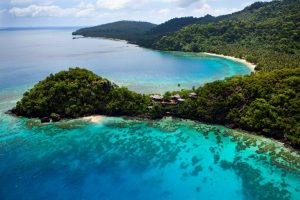 30. The Gritti Palace in Venice, Italy
Flag down a gondola and glide up to this classic Venetian palazzo to rest your weary travelers bones.
Boasting that they excel at surpassing the expectations of the most demanding guests, the Gritti is up to the challenge. The suites are decked out to suit the Doge, and visitors can rest secure knowing the palace has withstood the regular Venetian floods for over five hundred years.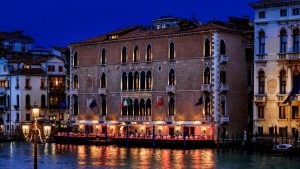 29. The Burj Al Arab in Dubai, UAE
You've seen this innovative building meant to look like the sail of ship, but that's nothing compared to what's inside. Every inch of this place is grandiose, over-the-top, and geared toward making you feel like royalty.
As if to prove how exclusive it is, the Burj was built on its own mini-island and has to be reached by bridge, or via the rooftop helipad.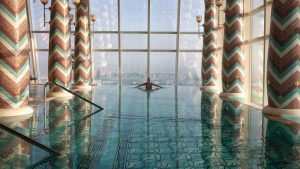 28. Raj Palace Hotel in Jaipur, India
It is literally a palace. With suites running up to $45,000 per night, it would have to be. Every inch of this place pulses with splendour – from the sprawling central courtyard to its royally outfitted rooms, the Raj is the place to go if you've always dreamed of being treated like old-school British royalty.
You know, because colonialism.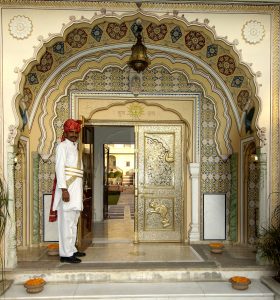 27. The Mark Hotel in New York, USA
New York is awash with exclusive hotels, clubs, and museums, but The Mark puts itself at the top of the heap with a two-floor suite that costs $100,000 per night, overlooks the Met, and has big-name chefs and stylists on call to feed and dress you.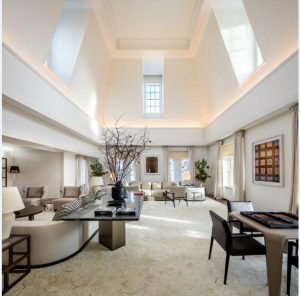 26. Hotel President Wilson in Geneva, Switzerland
Some big names have stayed here – Rihanna and Bill Clinton among them – and its Royal Penthouse Suite is a favorite among musicians because of the grand piano and purportedly great acoustics.
It also overlooks the lake, but the jury's still out on whether that's worth the $60,000 a night it costs to lay your head down here.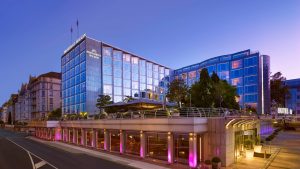 25. Faena Hotel in Miami, USA
Miami is famous for its nouveau riche glitz and glamour attitude.
This hotel is no different, with suites running up to $40,000, some of which were designed by celebrities like Moulin Rouge director Baz Luhrmann. But this hotel has more than snazzy rooms to tickle your fancy – it also has an admirable collection of modern art for viewing throughout the grounds.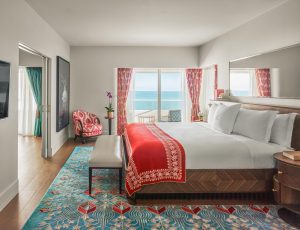 24. The Royal Mansour in Marrakech, Morocco
It has Royal in the name and this is, appropriately, where visiting royalty stays. With rooms up to $43,500 per night, you'd better be a prince, or at least have the income of one, if you plan to book a stay.
Sitting on an enormous estate in the middle of Marrakech, the lush gardens and phenomenal rooms are like a wonderland that you'll never want to leave.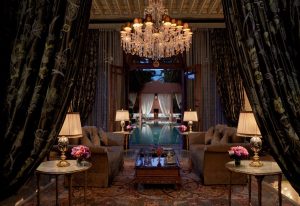 23. Rancho Valencia Resort & Spa in San Diego, USA
Eighteen tennis courts?
Two pools? A room that comes with your own personal Porsche for the duration of your stay? Yes, please. Rooms book months in advance though, so book ahead otherwise you'll have to, god forbid, bring your own Porsche on vacation.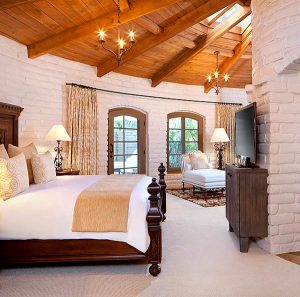 22. The Westin Excelsior in Rome, Italy
Steps from the Spanish Steps, this landmark hotel has Roman Emperor written all over it.
The lobby is dripping in marble and the rooms are fit for the Borgia's – they'll even treat your dog like he's a Medieval lord. And for the tidy sum of $100,000 per night you can stay in Villa la Copula, the two-floor suite in the dome at the top of the hotel featuring digs sweeter than the Pope's at the Vatican.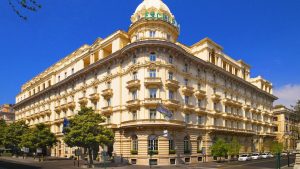 21. Atlantis Paradise Island, Bahamas
Private butlers, 22-karat gold chandeliers, and an aura recalling the legendary lost city of Atlantis.
Plus, it overlooks the absolute perfection of white beaches and turquoise ocean, where you can swim with the dolphins. Plus, you might catch a show by the like of The Jonas Brothers – the hotel has its own state-of-the-art concert venue.
20. The Boulders in Scottsdale, Arizona
A unique design that renders it in keeping with the desert surrounding it is not the only thing that makes this hotel special. It also plays retreat to celebs hoping to get away for an incognito vacation.
Tired of being on the ground? Take off in one of the hotel's hot air balloons and get an unparalleled view of the Arizona landscape.
19. CuisinArt Golf Resort & Spa in Anguilla, Caribbean
Built by the owner of the kitchenware brand of the same name, you're more likely to find champagne in your room than a food processor. It's stunningly beautiful, with a private golf course, private beach, and floors kept so pristinely clean that guests are encouraged to remain barefoot for their entire stay. Time to take care of those bunions!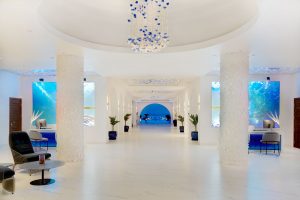 18. Marquis Los Cabos in Los Cabos, Mexico
Private pools, private waterfalls, private balconies – the name of the game at this luxury resort is privacy, so you can enjoy the beauty of Cabos without distraction.
Their resort activities include dance lessons, archery, and scuba diving, if you can drag yourself away from the serenity of the suites.
17. Titanic Mardan Palace Hotel in Antalya, Turkey
With a name like Titanic, you can expect Everything at this palatial hotel is over the top – the pool fits 1,000 people, there are not one but ten restaurants, dozens of shops, and hundred of suites.
It's an elite locale and even has a beach with sand imported from Egypt, because no other sand would do.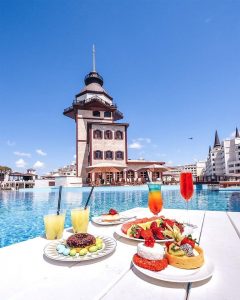 16. W Punta de Mita in Punta de Mita, Mexico
Punta de Mita is where the rich go when they go to Mexico, and when they do, they probably book a suite at the W.
The design of this modern hotel makes you feel like you're staying in an art museum on an idealized beach planet where the colors are brighter, the margaritas are stronger, and aside from getting the best lounge chair next to the pool, you haven't a care in the world. 
15. Four Seasons Resort at Sayan in Bali, Indonesia
Having trouble finding inner peace?
Have a look at this incredibly gorgeous hotel where wellness is the word of the day, every day. Onsite Balinese healers, personal meditation rooms and lily-pad laden pools all coax you toward nirvana.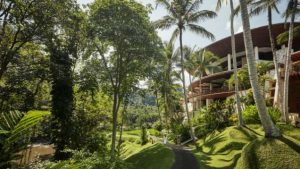 14. Hotel Bel-Air in Los Angeles, USA
The hotel claims to offer "low-key elegance," but how low-key is a palatial, pink-hued estate in the California hills that has its own Swan Lake? The real swan lake is full of swans, who apparently do not have to pay for their accommodations.
Of course, unlike the water fowl, you will get to eat food prepared by the famous chef Wolfgang Puck.
If you stay here, you'll feel like a celebrity in no time, assuming you aren't one already – you pretty much have to be in order to afford a room.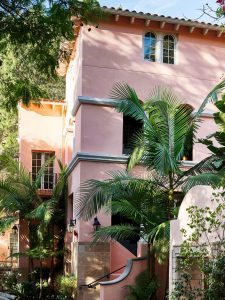 13. The Brando Resort on Tetiaroa, Tahiti
Situated on its own island atoll, you can only reach the resort with its 35 villas by private plane.
A jewel of a place that Marlon Brando went so gaga over he had to brand the place with his name, its isolation means staying in untouched natural luxury.
Your fellow guests are manta rays and exotic birds, the location one of eye-popping beauty.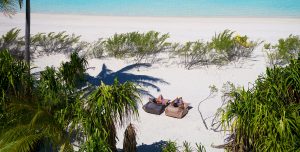 12. The Peninsula in Manila, Philippines
This classic hotel offers old-school luxury. One can imagine 1920s oil barons and gangsters feeling at home in its austere lobby and dining room.
The atmosphere is sophisticated, but the staff are hip enough to be able to tell you where to get the best Instagram shots of the city.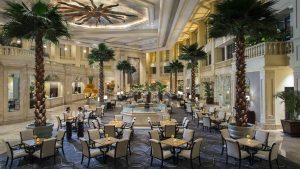 11. Ashford Castle in Cong, Ireland
It's a castle. Like, for real. Built in 1228, it's been updated for the modern guest but still offers throwback recreation like falconry. The pristinely maintained grounds and grandiose rooms will have you believing you're one of the Tudors, or whoever was ruling Ireland at that time — don't look at us this isn't the History Channel. It might have been Richard III but don't hold us to it.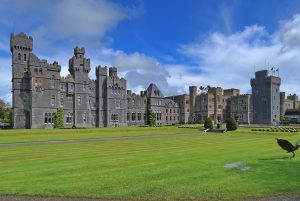 10. Soho House in Istanbul, Turkey
Publicity for this stylish hotel tucked in the Beyoğlu district says that you'll feel like you're staying in a friend's mansion. Ah yes, all our friends have mansions and we know exactly what you're talking about. But is it like Greg's mansion or like Linda's mansion? Because the last time I was at Linda's, the towel warmer was out of service.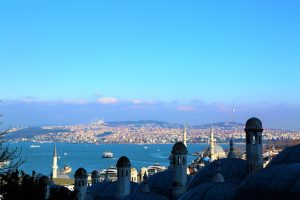 9. Qasr Al Sarab Desert Resort by Anantara, Abu Dhabi
If you never get to stay here, you should at least check out pictures of this incredible place. A string of sand-colored buildings shaped to blend in with the dunes of the desert, the Qasr Al Sarab is a literal oasis. Plunked right on the edge of the world's largest uninhabited desert, guests are encouraged to wake up at dawn to greet the unimpeded sunrise. Doesn't sound like much of a vacation, really.

8. Fogo Island Inn, Newfoundland, Canada
This place is hard to get to, but worth it. After two flights, a ferry ride, and a drive to the building set into the cliffs, you'll be too gobsmacked by beauty to pay any attention to your jet lag. The hotel itself is perched bird-like on a rocky cliff within throwing distance of glaciers.
The interior is a charming mix of contemporary and cottage chic. The inn is dialed in to all the local activities for guests to sample, like fishing, boat-building, and berry-picking, as well as a vibrant arts community that takes the surrounding wild beauty as muse.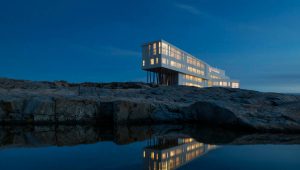 7. Mashpi Lodge in the Mashpi Rainforest, Ecuador
The modern structure of this luxe hotel strikes quite a contrast with the lush, primordial rainforest that seems to be perpetually in the act of overtaking it.
It boasts all the comforts of a luxurious resort, all of which is run on sustainable energy, supporting ecotourism in one of the world's most valuable and irreplaceable natural resources – the Amazon rainforest.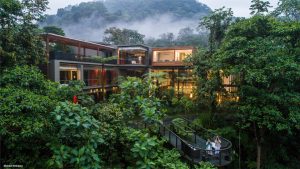 6. ICEHOTEL in Jukkasjärvi, Sweden
Tropical destinations are so last year.
This year, we want to be able to don our thousand dollar Canada Goose jackets while we're on vacation, our breath visibly frosting the air so we know we're alive. ICEHOTEL is the perfect place to do just that.
A fairytale structure built entirely of blocks of ice kept frozen all year long for your chilly relaxation pleasure.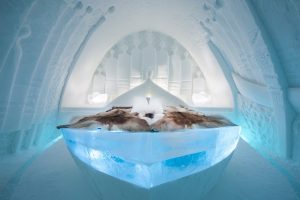 5. Marina Bay Sands, Singapore
No list of exclusive hotels would be complete without the magnificent Marina Bay Sands.
Its famous architecture is matched by its regal interior and service. It's the little things that really make this quaint little hotel a winner though; an infinity pool 57 floors up, a theater with a regular rotation of popular Broadway musicals, and a Chairman's suite that can be booked by invitation only.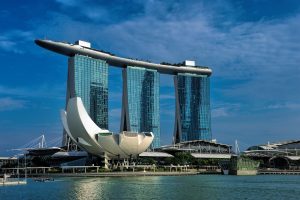 4. Helena Bay Lodge in Helena Bay, New Zealand
This cozy little lodge includes three, and only three, rustic villas on the coast.
To its small collection of guests, the lodge offers little luxuries like hand-sewn bedsheets, a Michelin-starred restaurant, and a ton of outdoor recreation. Kayaking, fishing, shooting, touring local farms – all these offer ways to take in the astonishing local beauty.
That is, if you find you get bored of the resort's pristine, private bay.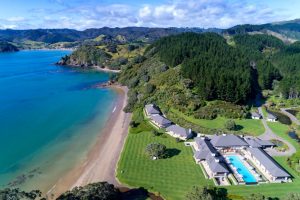 3. Ponta dos Ganchos Exclusive Resort in Santa Catarina, Brazil
Fire up your personal helicopter and touch down at this hotel that multi-millionaires call their home-away-from-home.
The extra cost comes with a promise that your stay will be peaceful – especially since the entire resort is no kids allowed. If only every hotel was like that.
And airlines. And malls. Oh, and movie theaters.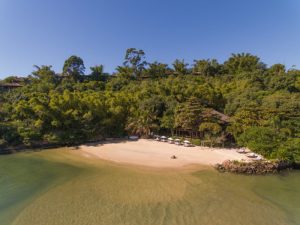 2. The Lanesborough, London
Get a taste of what it's like to be part of London's upper crust in this historical Mayfair establishment that shows no sign of leaving the past behind. You can expect your own venerable butler to greet you upon arrival, exquisite food, and a style consultation from Harvey Nichols, if you simply have nothing to wear to the theater.
Even the hotel's resident cat, Lilibet, is posher than you.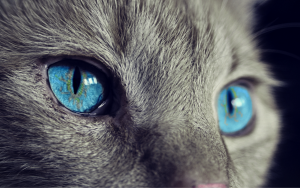 1. Lover's Deep Luxury Submarine, St. Lucia
It's underwater and if that's not enough to make it the definition of exclusive, it's also a neat $150,000 per night. Board the submarine at sea level and descend with your guest into a lover's paradise under the sea – assuming being trapped in a steel tube with your lover is your idea of paradise. It's a good way to test out a new relationship, and has allowed travel writers the world over to gleefully coin the phrase "join the mile-low club". Get it?